Woo! I finally jumped onboard the Throne of Glass train! I've felt so left out these past few months since I started blogging & following all these book blogs that are just OBSESSED with this series. I knew I was going to have to read it & finally got around to cracking open the first book last week.
---
Throne of Glass by Sarah J. Maas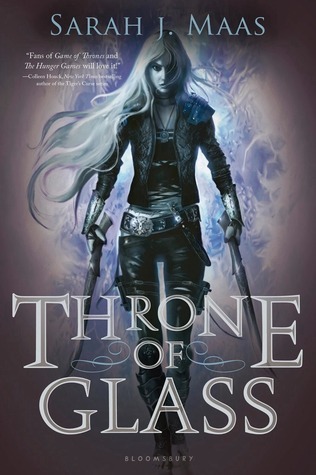 In a land without magic, where the king rules with an iron hand, an assassin is summoned to the castle. She comes not to kill the king, but to win her freedom. If she defeats twenty-three killers, thieves, and warriors in a competition, she is released from prison to serve as the king's champion. Her name is Celaena Sardothien.
The Crown Prince will provoke her. The Captain of the Guard will protect her. But something evil dwells in the castle of glass–and it's there to kill. When her competitors start dying one by one, Celaena's fight for freedom becomes a fight for survival, and a desperate quest to root out the evil before it destroys her world.
---
I knew from the book synopsis that I was going to enjoy this book. I mean, an assassin, a land without magic (just the mention of it would indicate that magic had existed at one point in this world), and a competition to become the King's personal Champion? Those things are all 100% in my lane. I love fantasy, so there was no way I was going to dislike this book.
This is one of those narratives that just dives right into the story. There's no character- or world-building up front. It's just BOOM. Immediately into the action. I love that. I'm not saying I don't appreciate the development of characters and settings, but I love the feeling of being hooked on the story from page 1. And with this one, I most definitely was.
The story begins as Celaena is being hauled into the building at the labor camp where she has been imprisoned. She is taken to see the Crown Prince of Adarlan (who else kept reading this as Alderaan the whole time? Just me? Ok...) who will make her an offer to compete to become the King's Champion and, after 4 years of service, earn her freedom.  That's all within the first 10-or-so pages of the book. Sarah J. Maas definitely has this whole "hooking readers" thing down to a science.
Celaena Sardothien is a character I have been waiting for for ages – not the FEMALE character, but rather ANY character. The fact that she is a she is just the cherry on top.  She is absolutely fierce and lethal, yet she opens her heart so easily despite everything she has been through, including waking up between her murdered parents in a pool of their blood, being taken in & trained to be an assassin at the age of EIGHT, and spending a year in a labor camp at age 17 where most prisoners only survive for a few months. She also loves as fiercely as she kills, whether it's a friend, lover, or even stranger – she is capable of such compassion.
There are many secrets throughout this book that unfold over time – when done well, it's a thrill ride and you find yourself just hanging on for dear life. However, not all instances are done well, and I did find many of the twists and turns to be somewhat predictable. Either the foreshadowing was a little obvious, or I'm getting WAY too good at picking up on the subtle hints & putting the pieces together. That's not a huge gripe, as I still love each and every turn the book made, but it did kind of unhook me from the story when I was just waiting for the ball that I knew was coming to drop.
I'd say the one thing that genuinely irked me throughout this book was the love triangle. I'm definitely a fan of romance in books (I don't find it necessary, but who doesn't love watching people fall in love? This is why shipping is a thing, right?) BUT I'm so incredibly over the love triangle thing. Will she? Won't she? Who's she gonna pick? Bouncing back & forth between the two… ugh. It's exhausting & I'd rather just watch two people dance around each other for 400 pages than have the main character waffle between two men who are completely dopey over her. Also, I ship one of the guys with her SO hard it's not even funny. So there's that.
All said, I still loved the crap out of this book. The ending was pretty epic and leaves us wide open for book #2.  There are hints at magic throughout, and I expect that to become a bigger part of the story as the series progresses. I'm completely in love with the characters and I totally see where all the hype is coming from.
I've actually already finished Crown of Midnight & started reading Heir of Fire, so it's safe to say I'm a fan of the series. I wish I had realized that it's not complete yet before I had started, though. There is no greater torture than waiting for the release of the next installment of a series.
Final Verdict:
(only lost one star because of the love triangle)
Well, how about you? Have you read this series? Are you in the group of uber fans? I'd love to hear your thoughts!
Until Next Time ❤