I did it. I finished Heir of Fire. I have a lot of thoughts here, so I'm going to try & organize them as best I can. I've tried my best to avoid spoilers for the other 2 books in the series, but if you haven't read those & don't want to risk it, I suggest you go back to one of my earlier reviews: [Throne of Glass] or [Crown of Midnight]!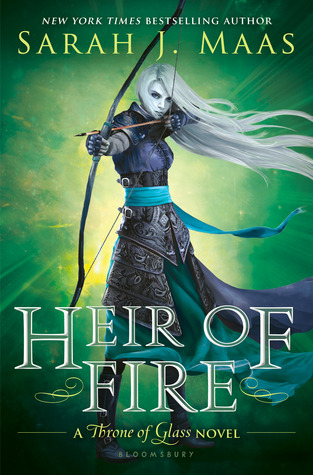 Celaena Sardothien has survived deadly contests and shattering heartbreak—but at an unspeakable cost. Now she must travel to a new land to confront her darkest truth…a truth about her heritage that could change her life—and her future—forever.

Meanwhile, brutal and monstrous forces are gathering on the horizon, intent on enslaving her world. To defeat them, Celaena must find the strength to not only fight her inner demons but to battle the evil that is about to be unleashed.
First of all, this book took me a LONG time to read (I guess some people don't consider 3 weeks that long for a book, but I definitely do). I just couldn't binge-read it the way I did with the first two books. Now, this could easily be attributed to book burnout after the aforementioned binge sessions, OR it could be because the storytelling in this book changed so significantly & felt really disjointed compared to the rest of the series. My guess is it was the latter, but the whole burnout thing is maybe a contributing factor.
The thing about this book compared to the first two is that we're following multiple concurrent story lines. This I have no problem with – I mean,  our favorite characters get separated & we start following each of them independently – duh. There was just something about the way it was executed in this book that felt…choppy? Every time I started getting invested in one of the story lines, the narrative would switch over to a different one & I'd lose my momentum. And then put the book down and not feel that burning desire to pick it back up.
The book is divided into two "Parts", which are directly related to a decision Celaena has to make. I'll say that Part 2 was MUCH more consistent than Part 1 & only took me a few days to read. Once I hit the 70% mark in the book, I got that fire back for the series. It was just one of those instances where the book in the middle of the series is spending so much time building up to what's to come that nothing REALLY happens. Except for that one thing that happens in the last 100 pages. Because Damn. That HAPPENED.
Celaena's character development is basically stunted for the first 2/3 of the book. She's her same stubborn self, still reeling from the events of Crown of Midnight.  It takes a long time for her to start climbing out of the abyss of despair she was dropped in, but once she takes that first step, things really start to pick up.
We're also introduced to quite a few new characters – dare I say too many? I think maybe. Perhaps not too many for the entire book, but too many in close succession, for sure. Things got kind of chaotic for a little bit during Part 1 & it was hard to keep track of the pieces that were flying in every direction and in no way coming together.
All-in-all, I did really love this book once I had finished it. I gave it 4/5 stars on Goodreads because I think it's setting us up for something absolutely, undeniably epic in the next two installments. It just suffered a little bit from what I call "The Two Towers" syndrome – where the middle of the story is just the middle of the story & has no beginning or end of its own. Can't fault a series book for that, but it does make it EXTRA frustrating to have to wait around for the next installment!
Have you finished Heir of Fire? What did you think?! I need to know! I need someone to talk about this book with, please tell me!
Until Next Time ❤