What? Don't you own a pair of nerd pants? I suppose if you mean LITERALLY, then neither do I. But if I found some & had money, I would totally buy some. Whatever they may look like. My figurative nerd pants get worn a LOT, however. This week I'm pretty much nerding out 24/7 over something or another, so obviously I want to share with you, my lovely readers.
COMICS
I finally started reading some comics other than Saga (but I did re-read Saga vol. 1 for the AdultBooklr graphic novel read-along for July…). What I'm reading now:
With the release of issue #22 (finally), it seemed like a good time to pick up this series. Did not hurt that Amazon ran a flash sale on the Kindle version of this volume for only $2.99 in their "pre-Prime-Day-madness". Honestly, the deals leading up to Prime Day were so much better than the ACTUAL prime day deals. But we don't need to talk about that. Anyway, this is freaking GREAT. And I'm only one issue into it.
I have been hearing about Sex Criminals since the first day I picked up a comic book. I'm only about halfway through this volume, but it's amazing. And the art is gorgeous-o. It's a totally different kind of storytelling than I have ever read before. It's more conversational & I'm really enjoying it.
MOVIES
So, obviously, we saw Ant-Man. I really liked it. My review from yesterday breaks it down, but I had to plug it here anyway 🙂
Also, I'm still freaking out over the Suicide Squad, Batman v. Superman, and Deadpool trailers from SDCC. Especially Deadpool. I really think Ryan Reynolds has nailed Wade Wilson (heehee that sounds dirty, how appropriate). Yay for allitteration!
SWATH
I'm PRETTY sure I've mentioned SWATH before, but we just had yet another tournament over the weekend, and I usually ride that high for a couple weeks afterwards. This month's tournaments were: The Tournament of Aces (Pilots from all different fandoms battling it out in Gunstar crafts from StarFox), The Tournament of Sidekicks (self-explanatory), and an all-cartoon tournament we called The Big Papa Crowley Tournament. I live-tweeted the madness & have started compiling a highlight reel from the evening.
In addition to the tournament, I have spent the last couple days working on getting our Tumblr page up and running, so y'all can follow us for nerdy goodness (shameless self-promotion…deal with it). If you're super confused over what we do, check out the about page.
ORGANIZATION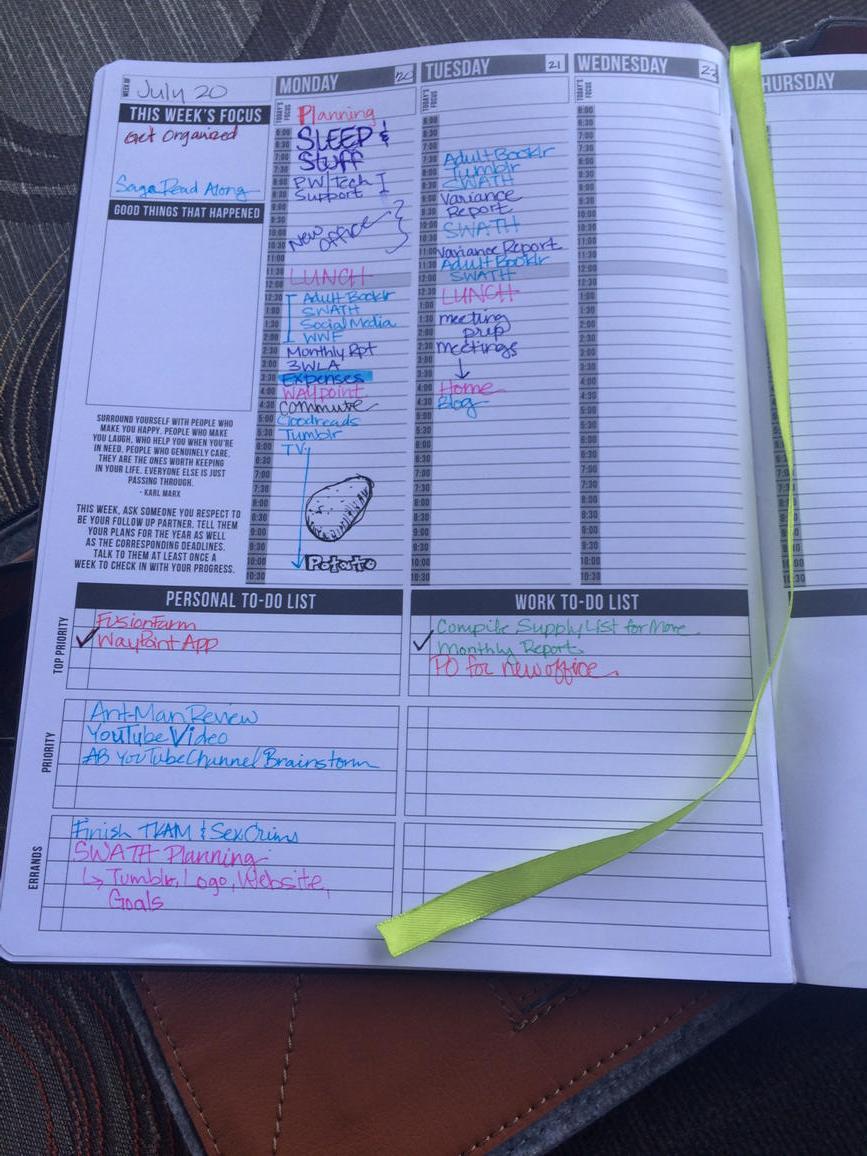 I'm a nerd for organization & stationery. It's certainly a different kind of nerdiness, but totes still counts. I bought myself a Passion Planner last week, which I talked about on last week's list. Well, it arrived & I could not love it more. I'll do a whole post about it once I've used it consistently for more than 2 days, but right now I'm 150% onboard with Passion Planner. Here's my first two days-worth of planning notes. I'm using it to track what I have actually DONE rather than planning out my days in advance. This way I can go back & see where I'm wasting all my time & hopefully make myself more productive in the long haul.
In addition to the Passion Planner, I ordered these disposable fountain pens by Pilot and holy crap if they aren't my favorite pens I've ever used. Shout out to singingktp for finding them in a stationery shop & gushing about them to me. They write so smoothly & don't bleed through even cheap notebook paper (unless you really saturate it). If you're into pens, get these. Seriously.
Annnd that's about it for this week. I'd love to hear anything you guys have been up to lately! I know I've been super MIA, but I'm working on getting myself ahead of the ball with posts so there's no more radio silence on my end!
Until Next Time ❤