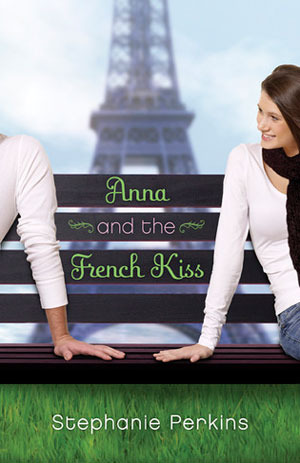 Anna is looking forward to her senior year in Atlanta, where she has a great job, a loyal best friend, and a crush on the verge of becoming more. Which is why she is less than thrilled about being shipped off to boarding school in Paris–until she meets Étienne St. Clair. Smart, charming, beautiful, Étienne has it all…including a serious girlfriend.

But in the City of Light, wishes have a way of coming true. Will a year of romantic near-misses end with their long-awaited French kiss?
I don't quite know where to start with this review. I really loved Anna. She's a LOT like me, which was a little freaky but also kind of annoying. Like, I don't really want to read about myself all that much. The primary difference between myself and Anna, though, is the one thing that made me dislike her – her inability to communicate with other human beings. So, maybe I wish she were a little bit more like me? Who knows. I'm a conundrum.
Though this book is touted as a romance novel, it didn't FEEL like a romance novel for the majority of the book. I still can't decide if I think it is one or not. Obviously, the romantic relationship is the central focus of the story, but it didn't play out in a way that was enjoyable (for me, at least), and I feel like the romance in a romance novel should be enjoyable to read. Personal opinion. You guys, I honestly fear I may be ready to move on from the angst & drama of YA, oh no!
With those two grievances out of the way, though, I did enjoy this book. I don't want my review to come across like I didn't. I read it pretty quickly – about 2 days – and never once was I bored or uninterested. I found all of the characters to have a unique perspective & each was interesting on his/her own, but when put together, the cast of this book is really great. The way the characters play off of each other & interact with one another feels very realistic, for high schoolers (or even undergrads).
In the long run, the majority of the plot here is driven by Anna's inability to communicate with people – both in a literal and figurative sense. Literally, she doesn't speak the language, which causes a few minor hiccups in her integration into boarding school life. The real problem, though, is that she is unwilling to take a chance & speak her mind and, as such, jumps to all the wrong conclusions about pretty much every person in her life. If this book taught me anything, it's to say what I'm thinking, lest I sabotage my own chance at happiness.
I'm not necessarily put off by this method of plot development, but it is a very "YA" thing to do, and one I'm looking forward to putting behind me as I try to branch out from the genre.
Final word:
I struggled so much to write this review because I can't really articulate how the book made me feel. From a technical perspective, it is nothing spectacular and I have clearly made a point to air my grievances, but Stephanie Perkins has a way with characters that makes them come alive & really helps you connect to the story. For that reason, this book gets more stars than my review would lead you to believe. Haha.
I hope any of this made sense to you. I'll be accepting questions to clarify my jumbled mess of a thought pattern. I promise.
Until Next Time ❤