At least now the world knows. YES. Iowa – little old, in the middle of the country, surrounded by cornfields, home to James T. Kirk & Clint Barton, Iowa – can most definitely support a large-scale comic convention. The weekend was so successful that Wizard World has already announced their return in May of 2016.  3-Day Passes sold out weeks before the event (much to the detriment of one procrastinating blogger) and Saturday passes were sold out by Friday. People have wanted this for so long and we had something to prove to those Wizard World Execs. Pretty sure we nailed it.
Based on my experience, the event was very well-organized & the venue was highly conducive to the flow of such a convention. Vendors and Artists set up booths in the main exhibition area, while celebrity meet-and-greets/photo-ops were housed in a smaller, adjacent area. Panels could be accessed either from an escalator within the photo-op area or via the main escalators in the lobby. The smaller breakout rooms were packed & made it easy to find whichever panel guests were interested in attending.
I'm thrilled by the success of this event and cannot wait to return year after year. It's a single step towards getting all kinds of large-scale events to come to the Midwest AND for showing the world what kind of crazy fun us nerds can have when we all come together to celebrate our fandoms.
And now, the weekend in photographs:
Friday
We spent the majority of Friday just exploring the exhibition floor & getting in lots of selfies with our favorite cosplayers. I met the greatest Spock impersonator I've ever seen & obviously HAD to get a photo. I was honestly a little intimidated (dude was 6'7″!) and maybe acted a bit of a fool, but whatever. Happens, right? I was excited.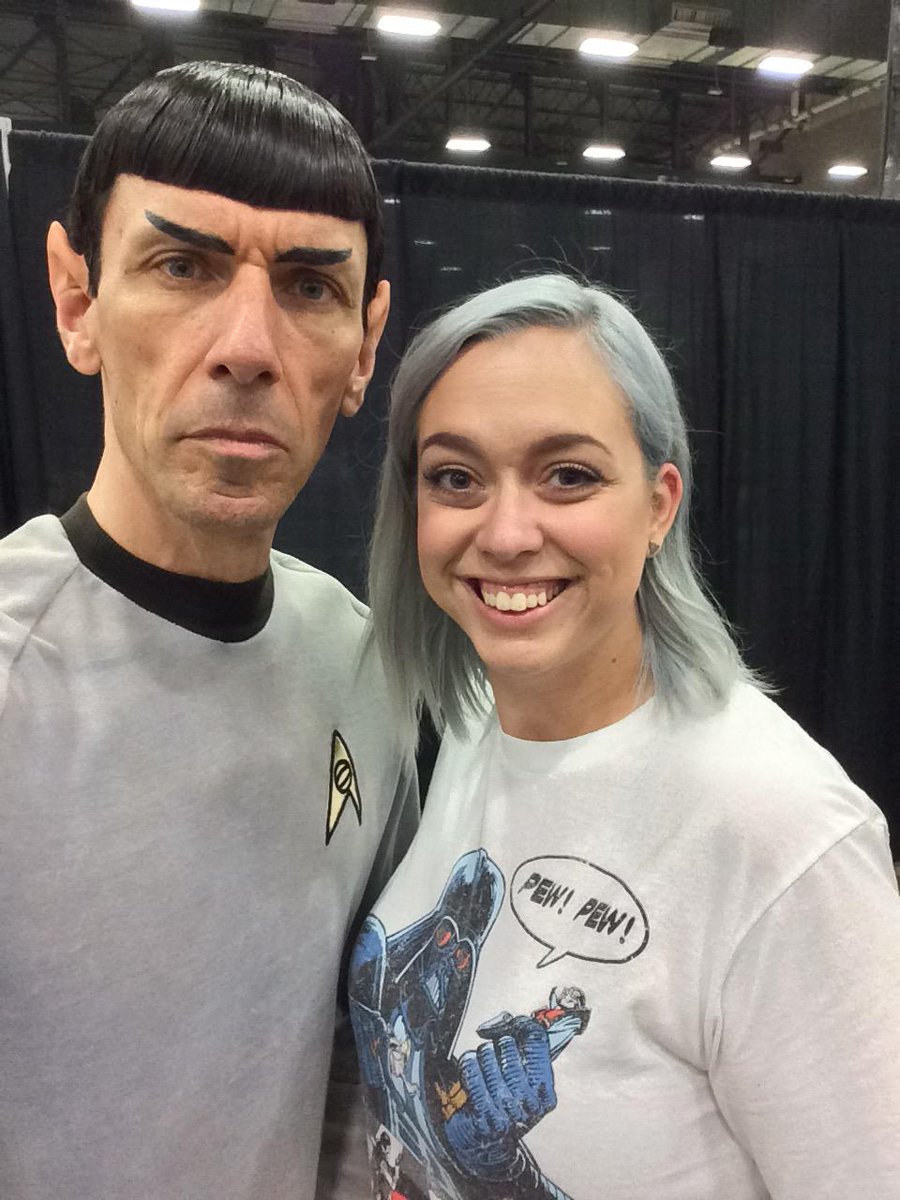 My girl KiT & I made one large sweep of the autograph area, where we ran into Miss Iowa 2014, Autumn Weaver, dressed as Wonder Woman! She is such an inspiration & a total doll. I spied her on Saturday dressed as Slave Leia (I think it was her) and then again as a member of Starfleet.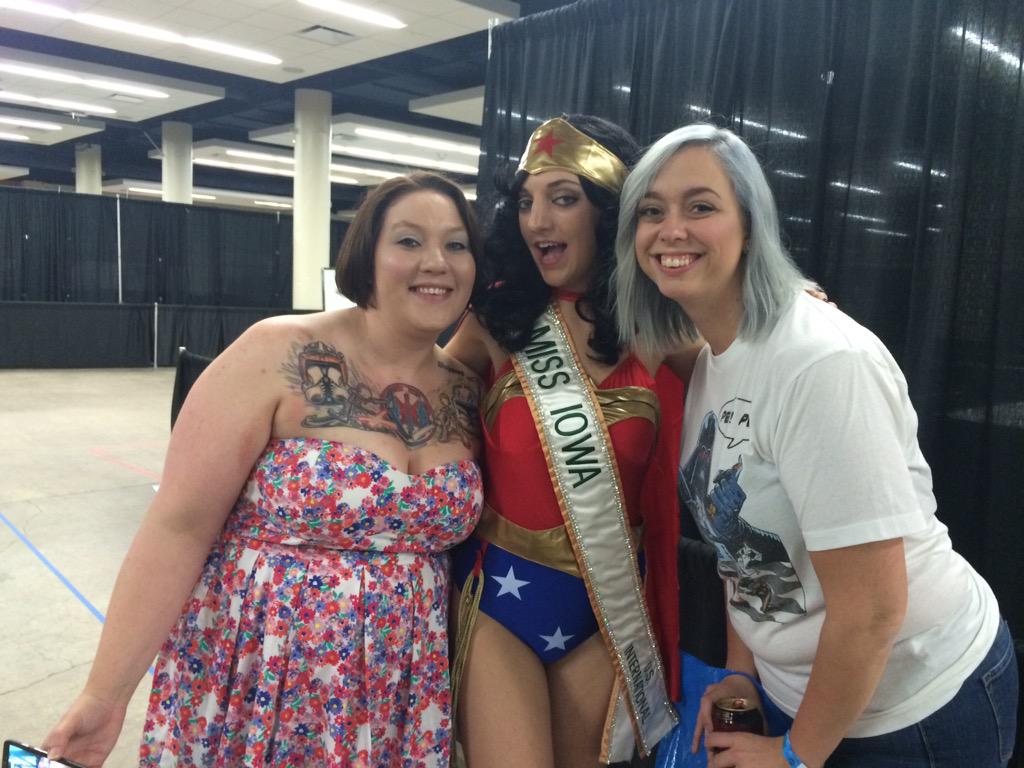 There were a number of Clark Kents floating around, but this was by far the best. I was really struggling with my camera here, thus the ridiculous faces.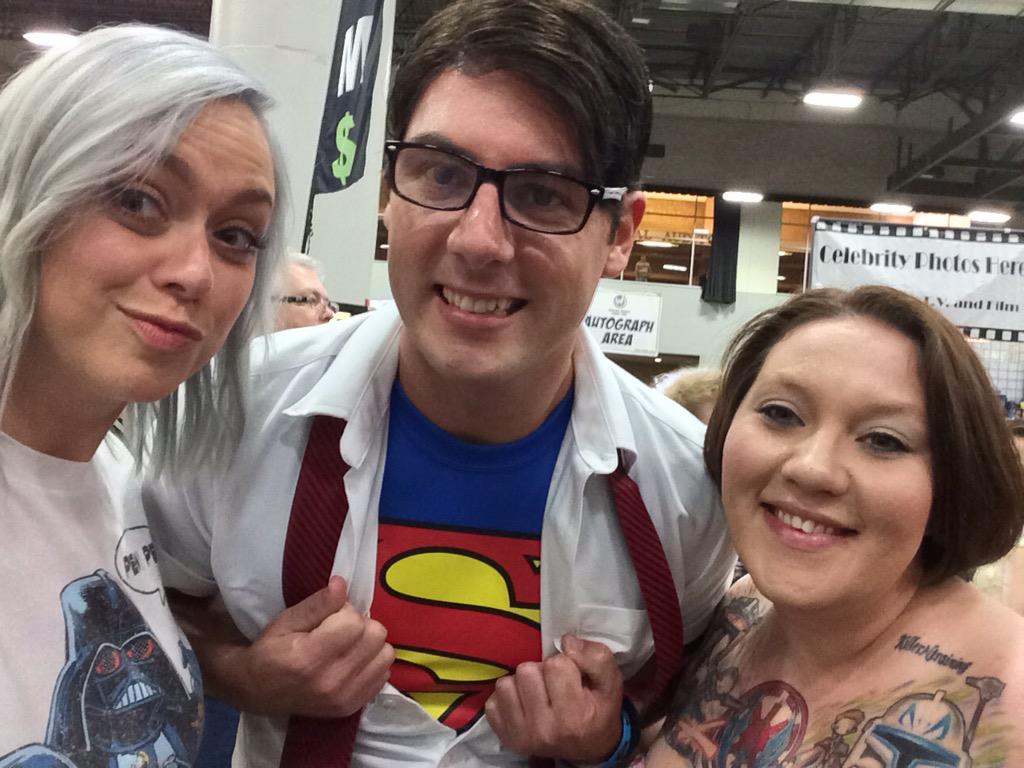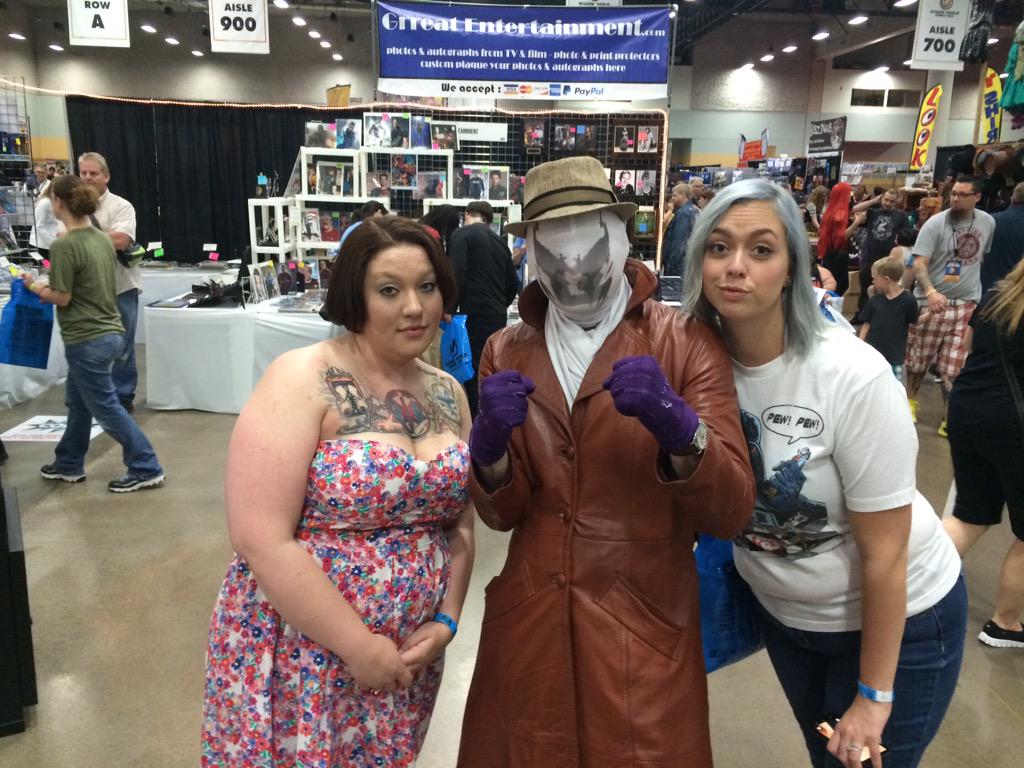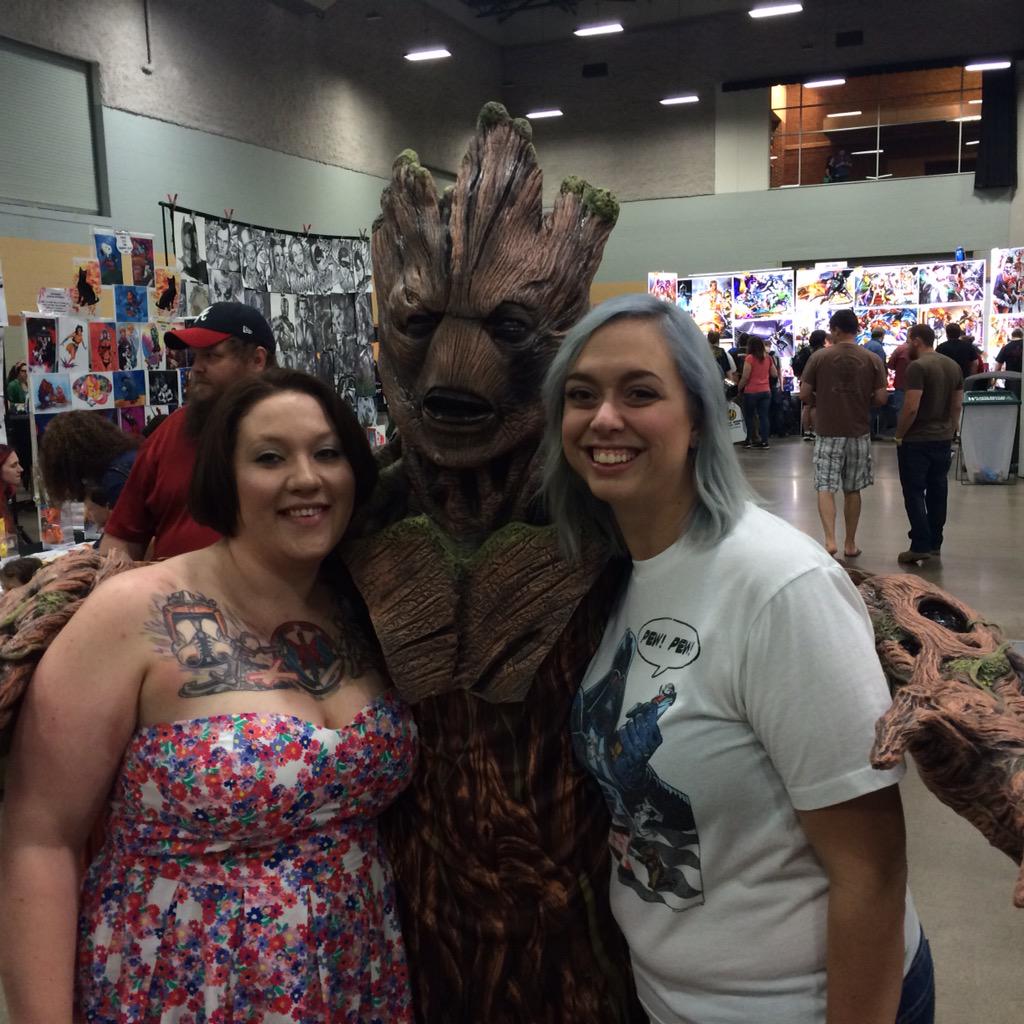 When we headed back to the bar, we ran into this all-female Guardians of the Galaxy group & definitely had to get a picture. And then hubby snuck up on us & gave us the best photobomb of the weekend. Because of course hubby was at the bar. I should have known.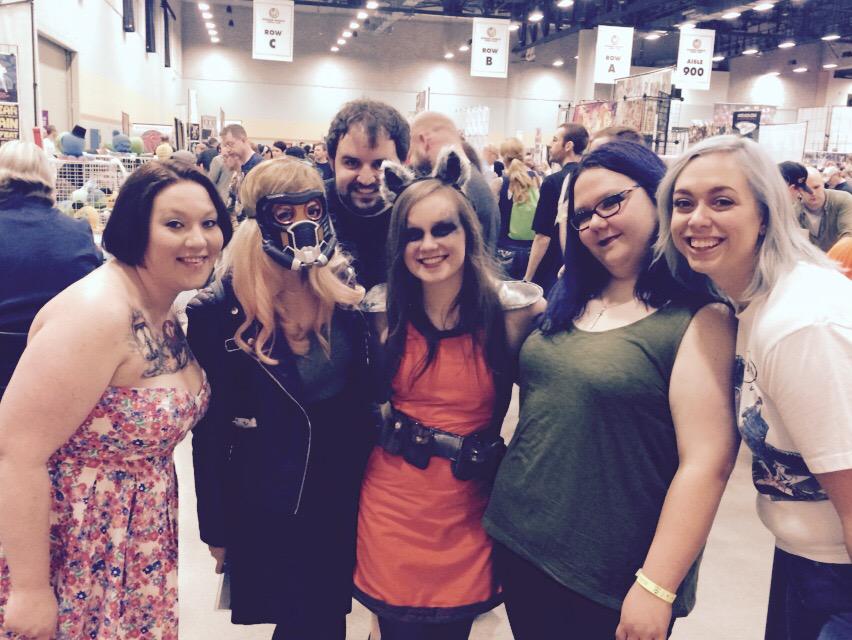 The best part of Friday, though, was ABSOLUTELY the 41st Chapter of the Mandalorian Mercs, Vhett Manda Clan, who were taking bounties & arresting members of parties for a small donation to their charity. We arrested KiT's husband since we had lost them & didn't feel like scouring the hall to find them. Instead we paid $5 & waited for them to come to us.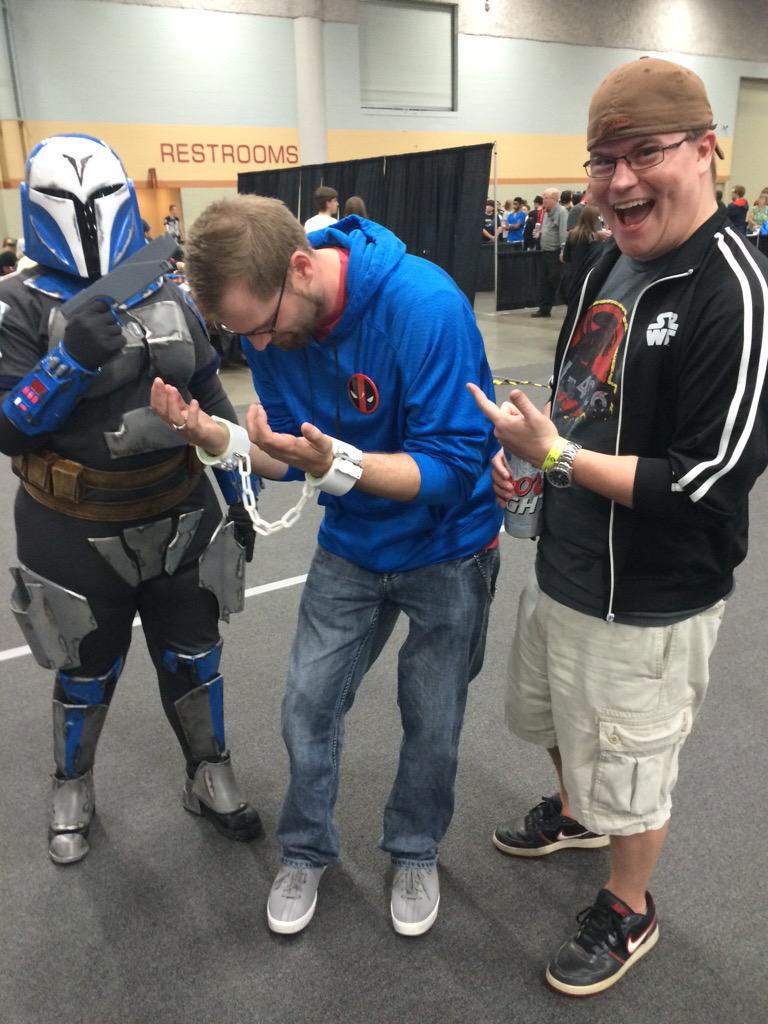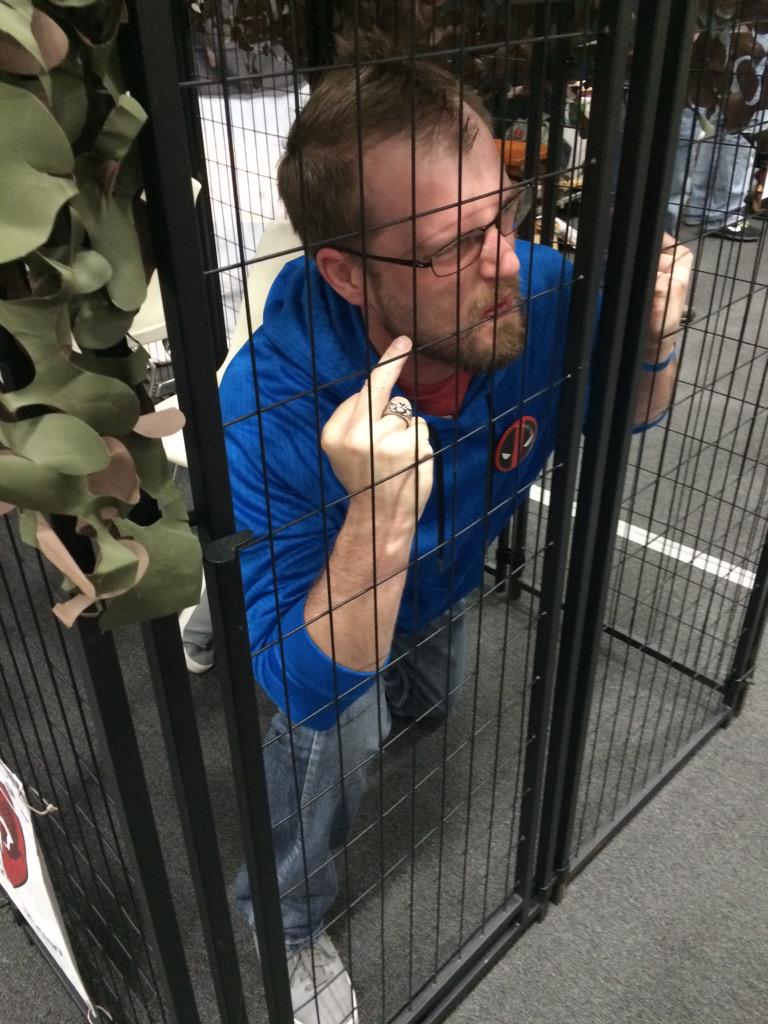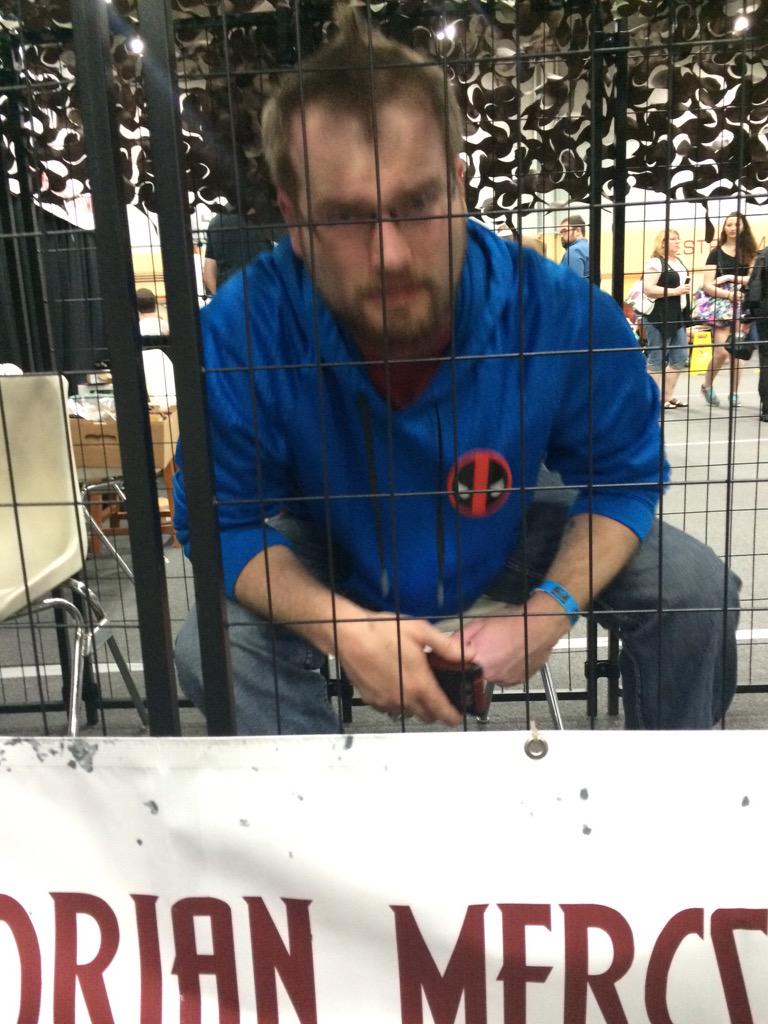 Hahaha. I giggled for a long time.
After the convention closed for the night, we all went out for a group dinner at Quinton's (because Zombie Burger had a 1.5 hour wait…obviously). Look how cute we are!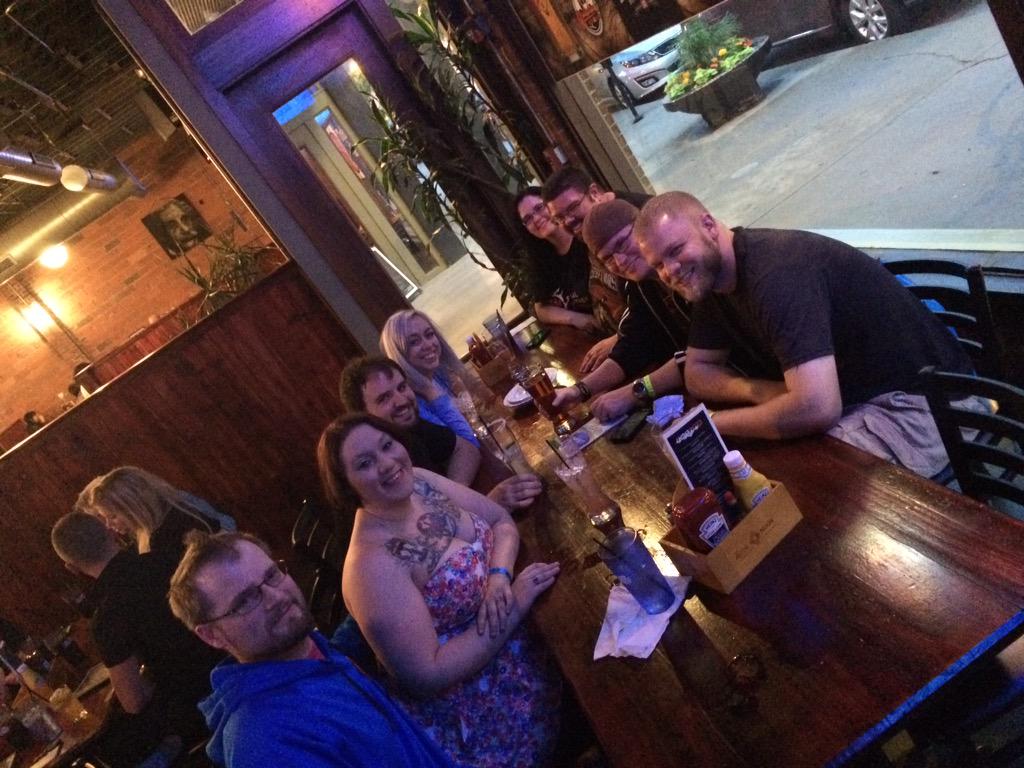 Saturday
Saturday was the only day any of us Cosplayed, and we had 3 very different characters. One of these times, we'll have to figure out a group thing, I think.
I have to say, for pulling hubby's costume together so last-minute (we're talking Wednesday night), I'm pretty damn proud of myself on this one. I give you: Matt Murdock (and the Devil of Hell's Kitchen, just for good measure).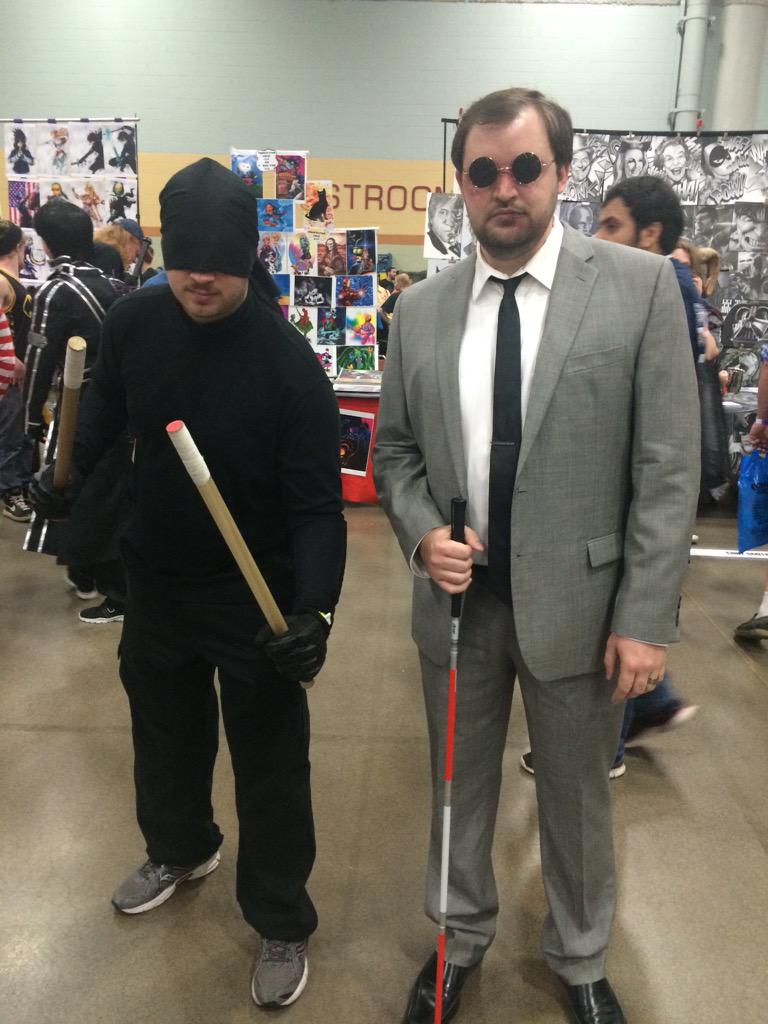 I had never done SFX makeup before, but I'd say this turned out pretty rad. I did  a couple trial runs on myself Thursday night, just to make sure I knew what I was doing. I still had a few difficulties with the prosthetic Saturday morning, but it all came together in the end 🙂
Of course, then you've got my iteration of Days of Future Past Quicksilver! This was a costume hubby wore for Halloween last year, but since I wanted to color my hair silver anyway, I decided to just hijack the costume.  We even found my twinsie (although from a different universe) and I slowed down long enough to get a photo. The rest of the day I must have been moving too fast, because I don't have any other pics of my cosplay. Oops.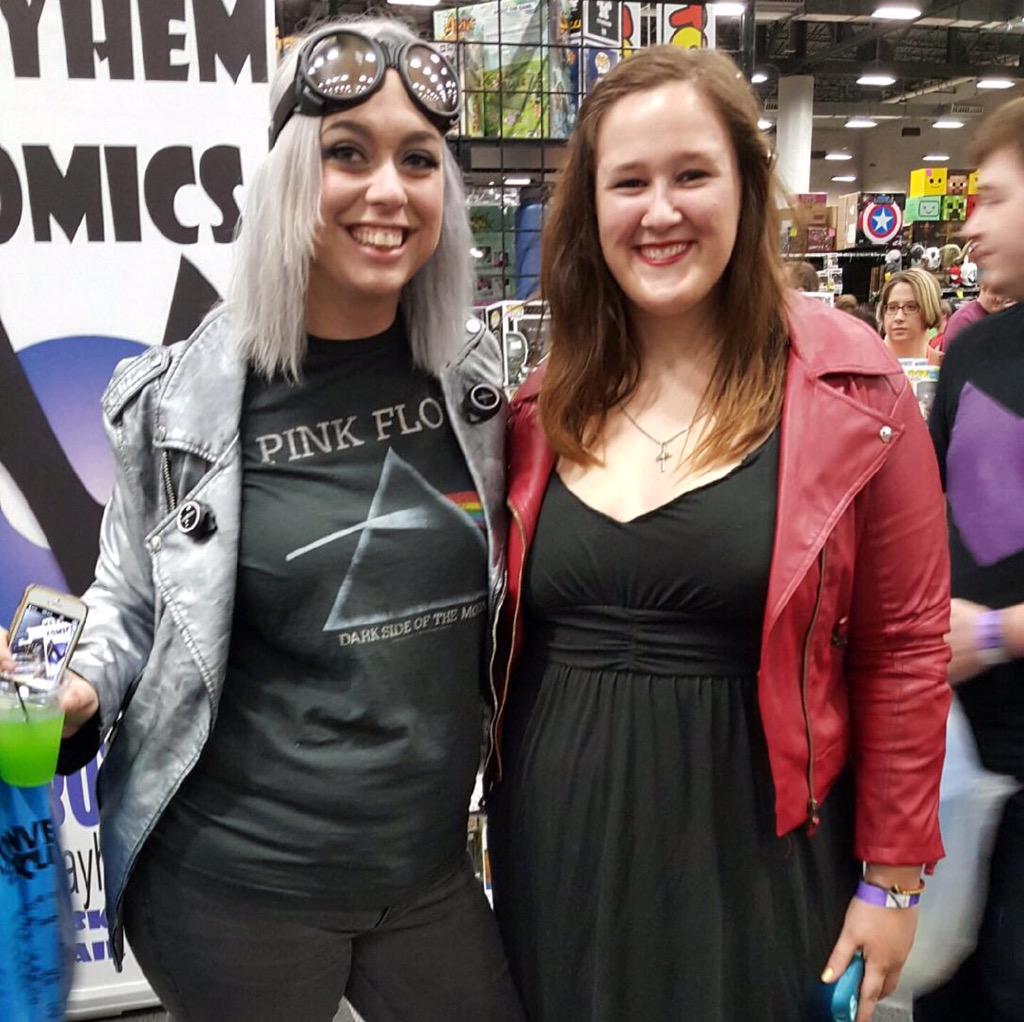 Of course, then you have the most in-character cosplayer of the day: our Joker, aka RyanTheGr8. He was hamming it up for the camera all day. The kids loved him (except for the one that screamed bloody murder….oops) and the professional photographers loved him, so he's in a bunch of official Wizard World photos from the weekend, too.
Here's that time he found the rest of his villain buddies & Batman.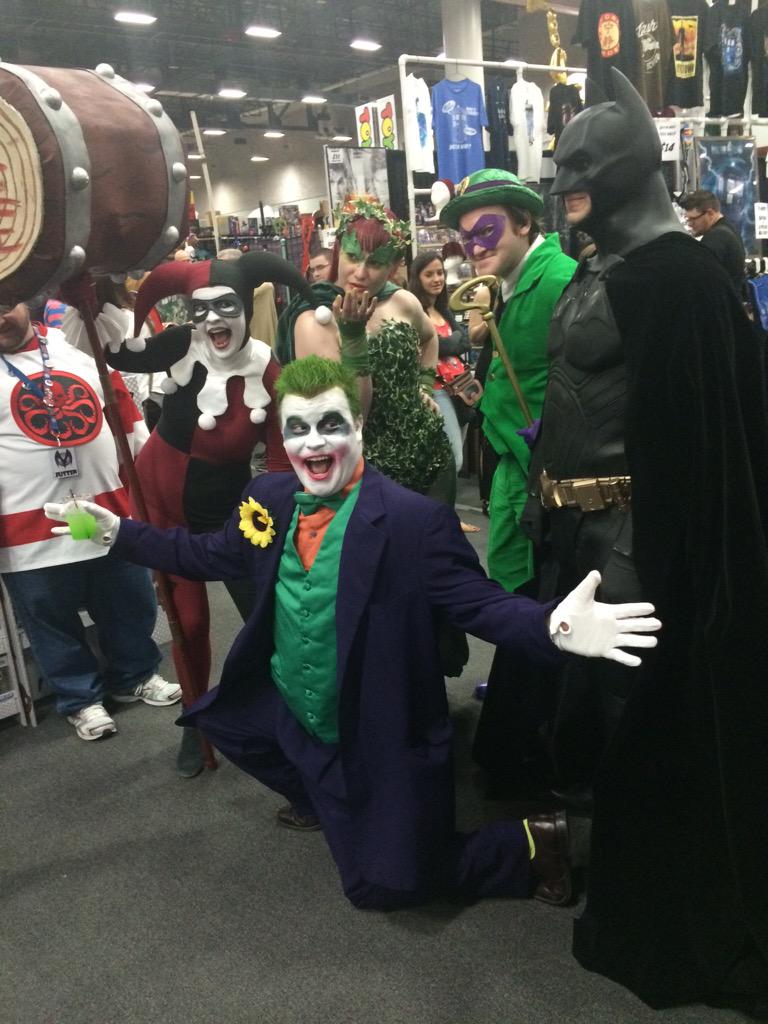 And that time he got his head chopped off by Revan.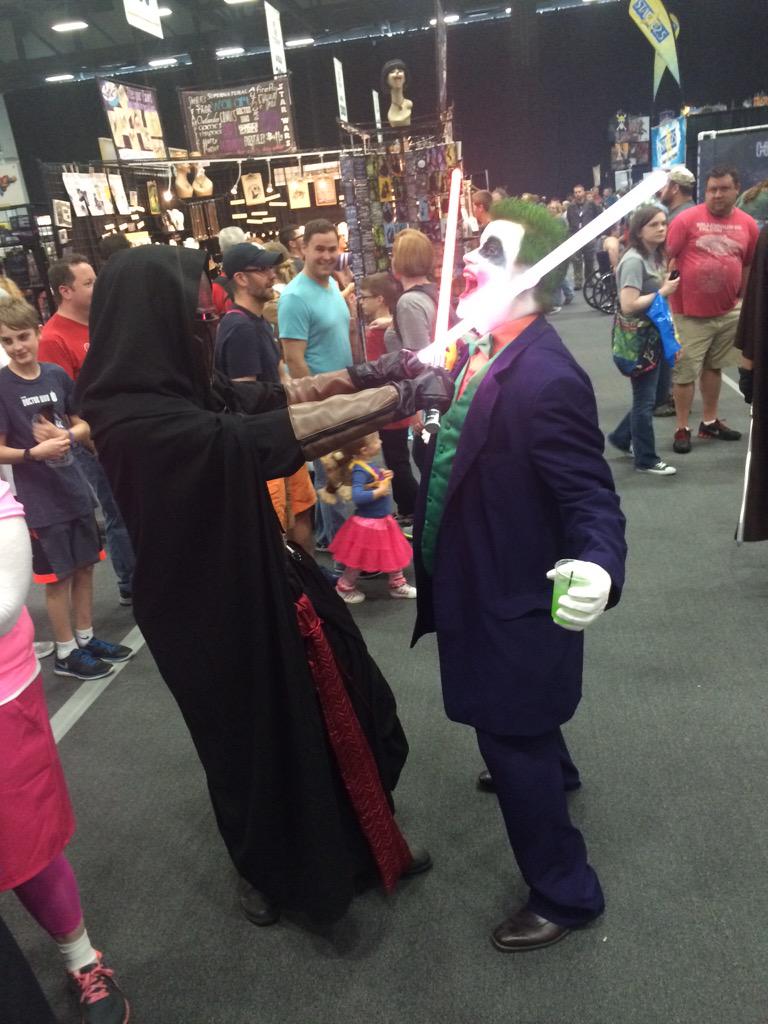 That time he got REALLY excited about finding Carmen San Diego & Waldo.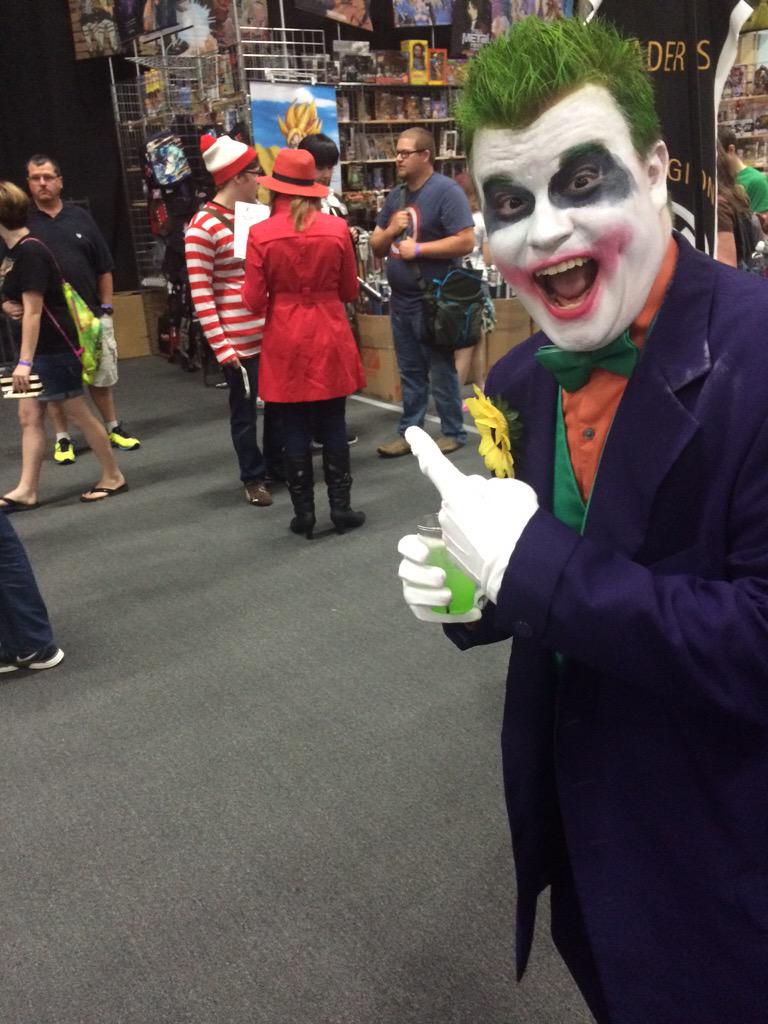 That time he protested against vegetarianism with Poison Ivy.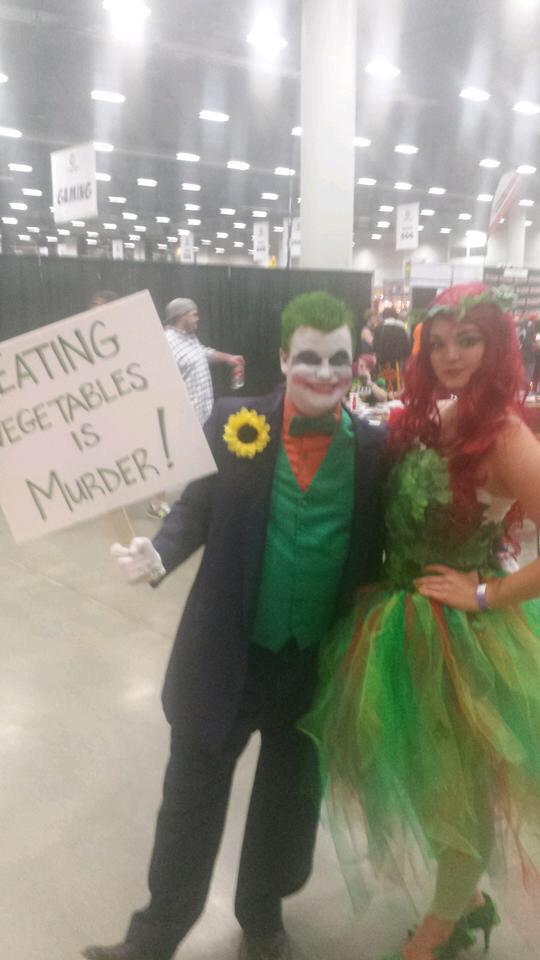 And that other time I slowed down enough to be caught on camera.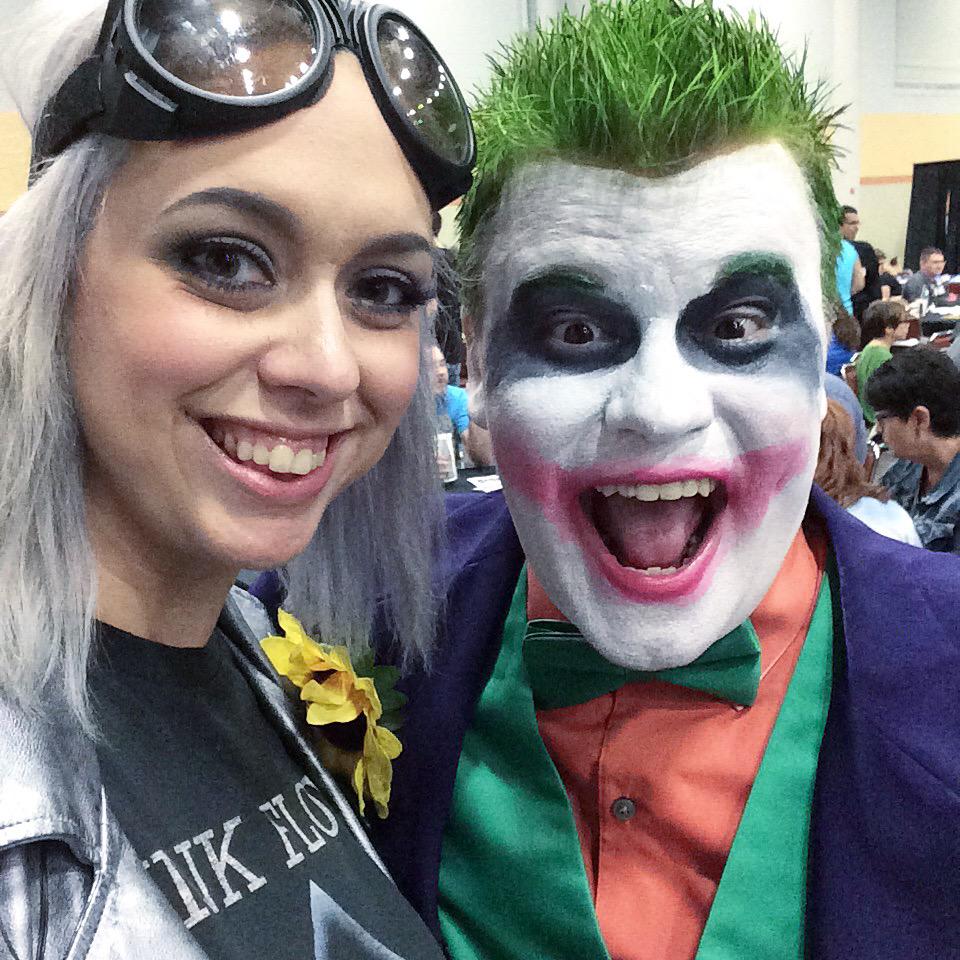 Haul
Last, but not least, my comic con haul – not as big as I would have expected, but that's probably for the best considering our current financial situation:
My first and only purchase on Friday was this Spike Funko! I mean, obviously.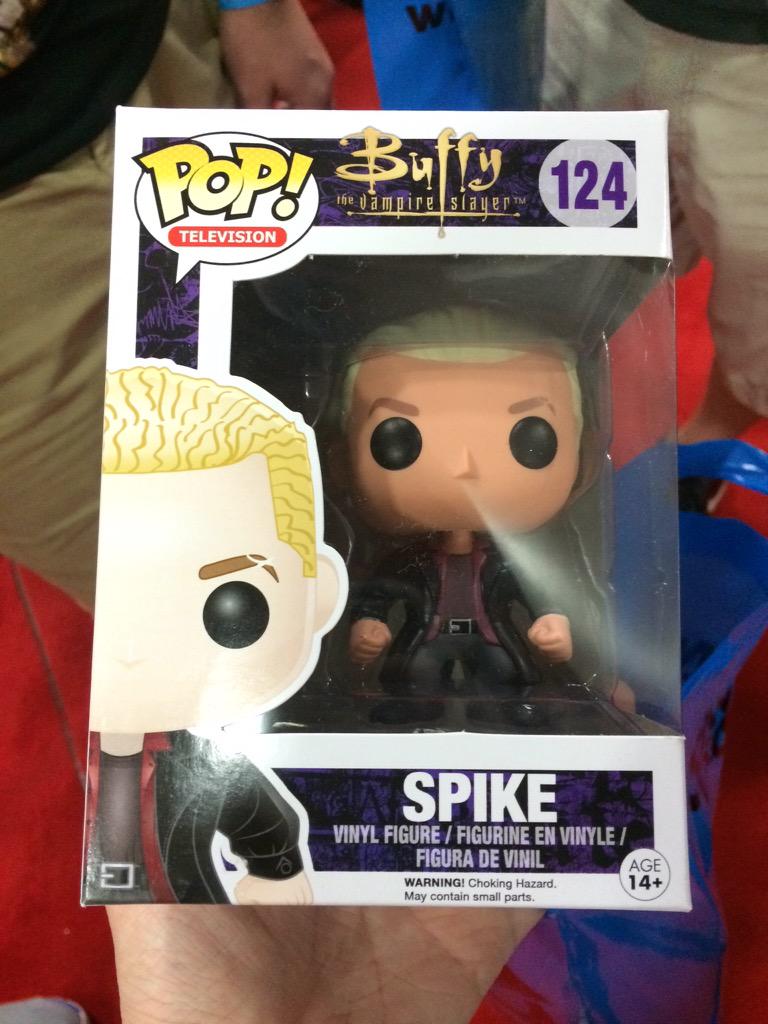 We passed the Colorworld booth on Friday & I just KNEW I needed to buy something from them, so I rushed back over on Saturday. We found out they had a discount for people who have the ConTV app (which I do), meaning I got a free paper print with my purchase of 2 bookmarks (which only cost $5 total)! These bookmarks are AMAZING. They are printed on aluminum & appear holographic. They're just gorgeous. I got a Boba Fett (which I don't have a pic of) and this Hermione Patronus one. I'm super obsessed & will probably buy more from them in the future. Also, the Colorworld book sounds so interesting & is now on my TBR.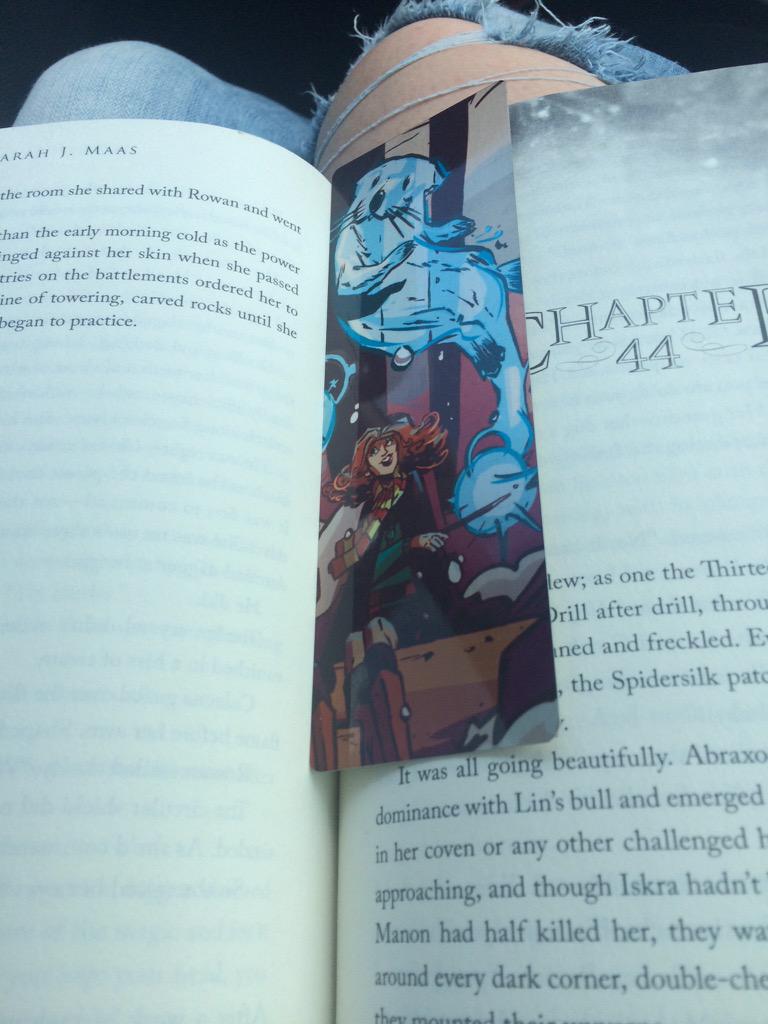 The paper print I chose from the Colorworld shop was this Super Smash Bros. print – it's so epic & will look great in our guest room, but it did get a little bent before I had the chance to buy a protector for it. Womp womp. Hopefully it won't be noticeable in its frame. If so, I'll just have to go ahead & buy another. Because I lurrrrve it.
Sorry for the absurdly long post today, but it was such a great weekend. I don't even think I recapped 60% of it here, but these are the only photos I ended up with. Lol. SOOO that's what you get. Because I'm a bad blogger. It'll be better next time, I promise!
Until Next Time ❤