Tomorrow is Day 1 of the inaugural Wizard World Comic Convention in Des Moines, IA (WWDSM). We've never had a large-scale con like this before, so it's encouraging to know that the 3-day passes sold out sometime last week (except that means hubby & I didn't get weekend passes because we're procrastinators…oops). I have a feeling this is going to be a very successful convention – it may actually surprise the Wizard World execs. Hopefully they opt for repeat performances & make Des Moines a standing stop on their tour going forward.
We've got a great lineup for this weekend, even though I'm heartbroken that BOTH James Marsters & Emily Kinney cancelled their appearances. We've still got Brandon Routh, Billy Dee Williams, Michael Cudlitz, Jewel Staite, Jason-Freaking-Mewes, Ernie Hudson, David Della Rocco AND Sean Patrick Flannery, Lou Ferrigno, and more! Plus I'm suuuuuper excited to cruise through Artist Alley & talk to creators/ fan artists. I'm hoping to pick up a few indie issues & maybe find some new favorites! Plus, artwork, artwork, artwork. I could spend the entire day in Artist Alley & not even care about the celebrities. I mean, I CARE, but I might geek out more over the creators. That's just me.
A small group of our friends made the trip up to Wizard World Minneapolis in May 2014, so we kind of know what to expect from this event. I actually only attended that convention on Sunday, when everyone was starting to pack up, so I'm REALLY excited to see what the place looks like on Saturday when EVERYBODY & their mother is there. The boys all went all weekend, but I happened to have a pre-planned girls' weekend (coincidentally also in Minneapolis) with my mom, aunt, and cousin for my cousin's graduation – so I was booked up with MOA & Ikea on Friday & Saturday. Not that I'm complaining. AT ALL. That was one of the greatest weekends ever. *reminisce*
Anywho. So since we're TERRIBLE planners (I mean, really, really terrible), hubby & I: a) didn't get weekend passes, as mentioned above; b) didn't plan cosplay far enough in advance; c) didn't book a hotel room in advance; or d) all of the above? I think you know the answer.
It was yesterday when we started feverishly making plans. He booked a hotel for Friday night – luckily right across the street from the convention center & still reasonably priced. I called every beauty supply store in a 100 mile radius to find the right toner to dye my hair silver; only one store out of 5 that I called had the product in-stock, so I drove 45 minutes to pick it up.  When I got home from that adventure, hubby was grouchy that I stole his cosplay, so we scrambled to figure out something we could pull together last-minute for him (let me tell you: the one we settled on is going to be GREAT, but you'll have to wait & see). We have yet to purchase event tickets.
Tonight's agenda consists of a shit-load of laundry, bleaching & dying my hair silver (hopefully my employer doesn't mind the atypical hair color), ticket-buying, and pack-pack-packing for the weekend. We depart tomorrow at noon!
I'll be instagramming & tweeting our weekend adventures with the hashtag #WWSWATH, so if you want to see some crazy antics, make sure to check out that tag or follow me on twitter & instagram!
Want a Sneak Peak of my DOFP Quicksilver? Of course you do.
(I may have stolen it from hubby, but I'm the one who assembled it in the first place, so I still have some claim on it, right??)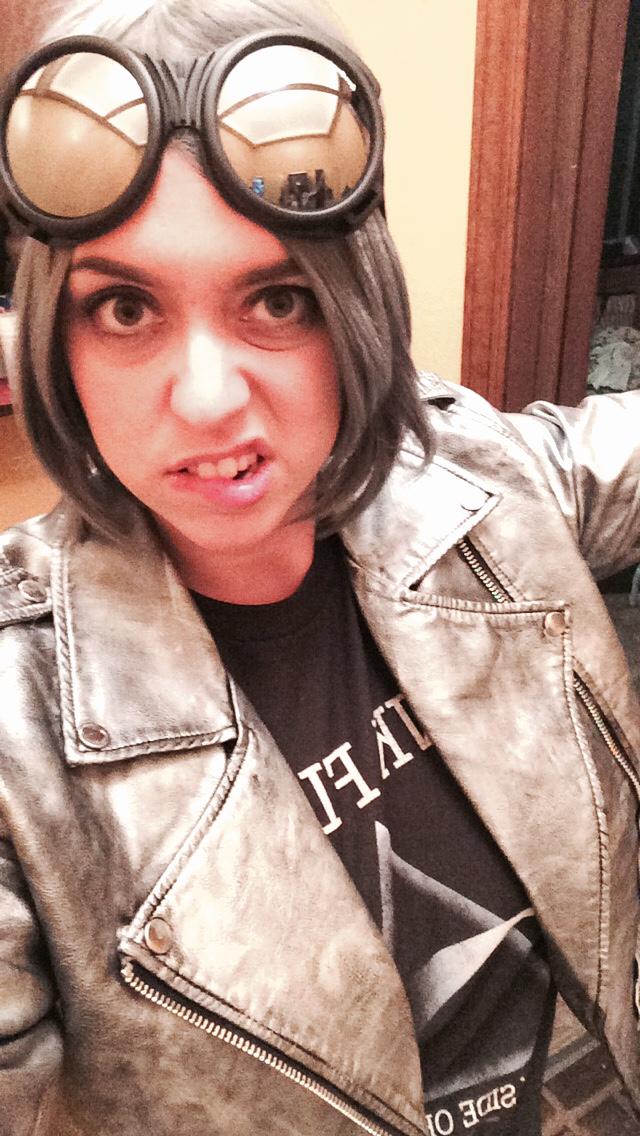 That ^ is a wig. I think it'll be much better when my natural hair is just dyed silver 🙂
Until Next Time ❤