Hey, y'all! It's Wednesday, which means it's time for me to geek out a little for you & share some of the stuff I'm obsessing over riiiiiiiight now! And, go:
BOOKS
Fangirl's Guide to the Galaxy by Sam Maggs
Bought this for myself since a certain hubby of mine dropped the ball on Mother's Day *cough, cough*. It turned out just fine, though, because not only did I end up getting new books guilt-free, but I also got the experience of browsing all the glorious shelves at the bookstore – so maybe he didn't fail so much as really, really win?
ANYWAY. I knew I needed this book from the moment I first heard about it, so I picked it up last Thursday at Barnes & Noble since it just came out Tuesday. I've only read a couple chapters, but I'm LITERALLY (not using this ironically…this is NOT a drill…this is LITERAL) squealing for joy every 5 minutes & I can't stop reading passages to my husband. I feel as though this book was written just for me and it speaks to my soul on a level no non-fiction book has ever reached. Reading Fangirl's Guide has been one of the most exciting experiences of this year, because it just feels SO. GOOD. to feel understood. ❤ ❤ ❤ *squees for days*
Throne of Glass by Sarah J. Maas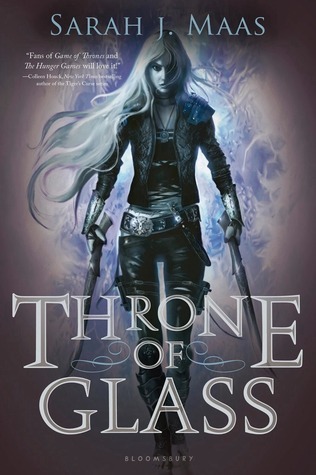 Since I finished Ready Player One last week, it was time to move on to the next book on my TBR pile. I picked this up last night & blasted through the first 50 pages before I became incoherent & fell asleep with it open on my chest. I love books that just dive right into the story – it's always a little disorienting to try and world-build when you're not getting the setting & character development up front, but it's so much fun when those gaps start to fill in as little pieces are revealed through an action-packed narrative.  I'm dying to get out of work today so I can go home & keep going. This book is rad as hell so far.
INTERNET
Bad Blood Music VIdeo
Who isn't freaking out about this? It's full of SO. MUCH. AWESOME. I can't stand it. I've been humming Bad Blood for days, now, and I'm still not sick of it.  T.Swift's life game is so on-point it's ridiculous. Every time she puts out a new music video, my love for 1989 is renewed & I listen to it on repeat for weeks. Can't wait for September, when I get to see her in Minneapolis!
Anna Kendrick: Indiana Jones??
Wait. Why isn't this real? Can studio execs please watch this & realize that the world NEEDS Anna Kendrick to be the next Indiana Jones? Supposedly the next installment has been "in the works" since early last year, but it doesn't seem to be gaining much traction with production. Maybe what they need is not just a "reboot", but a complete makeover? The kind that comes with a little more estrogen & snark? Either that, or just scrap the project all together because I'm not exactly interested in regurgitated story lines with younger versions of the original cast.  Give me Anna Kendrick as Indiana Jones & then maybe, idk,  throw Chris Pratt in there for good measure? Cuz who wouldn't want to see that? I'll stop now. Just watch the video. Because it's glorious.
Movies
Avengers: Age of Ultron [Scarlet Witch]
Finally went back & saw this for a second time on Saturday (the first time was opening night & I missed a good chunk of the movie from being sleepy/tipsy on my birthday). Now, I'm not exactly obsessing over the movie as a whole, but I can.not. stop thinking about every major Wanda moment in the film. I missed them ALL the first time around, so when she started doing real magic – I got GOOSEBUMPS, guys. Legit, shivery goosebumps. I'm such a huge fan of Scarlet Witch – it started when I dressed as her for Halloween last year – and I was SO excited to see her come to life on screen. I know there has been a lot of controversy regarding the casting of Elizabeth Olsen as Wanda, since she is neither Romani nor Jewish, but I have to say – I think she nailed it. And I am pumped to see her in Cap 3. I hope they bring in the full costume, though – it's just not Scarlet Witch without the headpiece!
Comics
A-Force
A-Force #1 is out today, and I'm headed down to the comic book shop to pick up my copy the instant I get out of work. Just check out all those AMAZING variant covers!
BEAUTY
This photo set is utter perfection. All those beautiful shades! I need to get all over making my hair a different color. It's just time.
Goods
Nate Berkus Office Collection @ target
I've been slobbering over all of this for ages, but I think it's time I bring some of it home with me – because OMG.
There you have my faves for the week – what are you obsessing over? Is there something I'm totally missing?! Let me know!
Until Next Time ❤