Happy Tuesday, internet!  Today's Top Ten Tuesday is for the books I've recently added to my TBR list. My list is absurdly long – 580, to be exact. SO intimidating. But I kind of love it.  Anyway, here are my newest additions: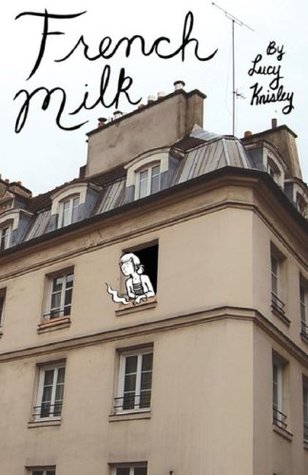 1. French Milk by Lucy Knisley – This was one of the graphic novels laying out on the table when I attended a Comics & Beer event this past weekend. I thumbed through the pages for about 5 minutes & it definitely seemed interesting enough to add to my TBR.  |   A place where young Americans can seek poetic magic in the winding streets of a beautiful city. The museums, the cafs, the parks. An artist like Lucy can really enjoy Paris in January. If only she can stop griping at her mother. This comic journal details a mother and daughters month-long stay in a small apartment in the fifth arrondissement. Lucy is grappling with the onslaught of adulthood. Her mother faces fifty. They are both dealing with their shifting relationship. All the while, they navigate Paris with halting French and dog-eared guidebooks.
2. Blankets by Craig Thompson – Another that I discovered this weekend & everyone in the room was raving about – this one's going to be read pretty soon if it is all it's cracked up to be   |    Wrapped in the landscape of a blustery Wisconsin winter, Blankets explores the sibling rivalry of two brothers growing up in the isolated country, and the budding romance of two coming-of-age lovers. A tale of security and discovery, of playfulness and tragedy, of a fall from grace and the origins of faith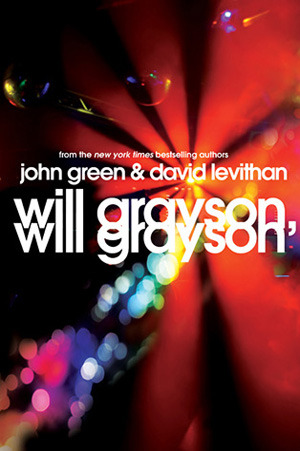 3. Will Grayson, Will Grayson by John Green –  Haha. Ok this one I found because of a Buzzfeed Books quiz: Which John Green Novel Are You? and it turns out I'm this book. So I've got to read it, right?   |    Will Grayson meets Will Grayson. One cold night, in a most unlikely corner of Chicago, two strangers are about to cross paths. From that moment on, their world will collide and Iives intertwine. It's not that far from Evanston to Naperville, but Chicago suburbanites Will Grayson and Will Grayson might as well live on different planets. When fate delivers them both to the same surprising crossroads, the Will Graysons find their lives overlapping and hurtling in new and unexpected directions. With a push from friends new and old – including the massive, and massively fabulous, Tiny Cooper, offensive lineman and musical theater auteur extraordinaire – Will and Will begin building toward respective romantic turns-of-heart and the epic production of history's most awesome high school musical.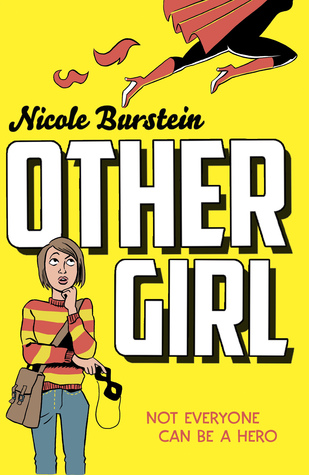 4. Othergirl by Nicole Burstein  –  A book blogger recommendation (sorry, can't remember who from). Definitely sounds up my alley.  |   Louise and Erica have been best friends since forever. They're closer than sisters and depend on each other for almost everything. Just one problem: Erica has superpowers. When Erica isn't doing loop-the-loops in the sky or burning things with her heat pulse powers, she needs Louise to hold her non-super life together. After all, the girls still have homework, parents and boys to figure out. But being a superhero's BFF is not easy, especially as trouble has a way of seeking them out. Soon Louise discovers that Erica might be able to survive explosions and fly faster than a speeding bullet, but she can't win every fight by herself. Life isn't a comic book – it's even crazier than that.
5. The Rest of Us Just Live Here by Patrick Ness – This was a Waiting on Wednesday pick by the lovely Rosie Reads. I have been hearing tons of great things about Patrick Ness, but haven't read any of his work yet.  This one sounds extra intriguing to me.  |   What if you weren't the Chosen One? What if you're not the one who's so often the hero in YA fiction; who's supposed to fight the zombies, or the soul-eating ghosts, or whatever this new thing is, with the blue lights and the death? What if you were like Mikey? Who just wants to graduate and go to prom and maybe finally work up the courage to ask Henna out before someone goes and blows up the high school. Again. Because sometimes there are problems bigger than this week's end of the world and sometimes you just have to find the extraordinary in your ordinary life. Even if your best friend might just be the God of mountain lions…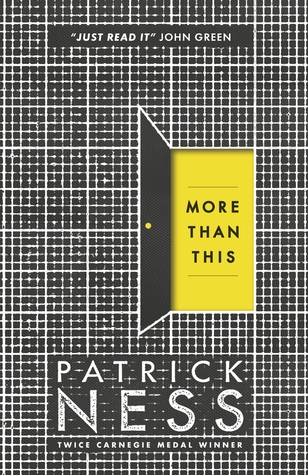 6. More Than This by Patrick Ness – Miss Rosie also mentioned in her last Waiting on Wednesday that she adored this book by Patrick Ness, so onto the list it went!  |   A boy drowns, desperate and alone in his final moments. He dies. Then he wakes, naked and bruised and thirsty, but alive. How can this be? And what is this strange deserted place? As he struggles to understand what is happening, the boy dares to hope. Might this not be the end? Might there be more to this life, or perhaps this afterlife? From multi-award-winning Patrick Ness comes one of the most provocative and moving novels of our time.
7. A Madness of Angels by Kate Griffin – Random book blogger recommendation  |   For Matthew Swift, today is not like any other day. It is the day on which he returns to life. Two years after his untimely death, Matthew Swift finds himself breathing once again, lying in bed in his London home.Except that it's no longer his bed, or his home. And the last time this sorcerer was seen alive, an unknown assailant had gouged a hole so deep in his chest that his death was irrefutable…despite his body never being found.He doesn't have long to mull over his resurrection though, or the changes that have been wrought upon him. His only concern now is vengeance. Vengeance upon his monstrous killer and vengeance upon the one who brought him back.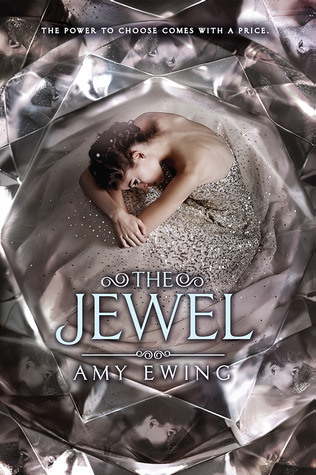 8. The Jewel by Amy Ewing – Random book blogger recommendation  |   The Jewel means wealth. The Jewel means beauty. The Jewel means royalty. But for girls like Violet, the Jewel means servitude. Not just any kind of servitude. Violet, born and raised in the Marsh, has been trained as a surrogate for the royalty—because in the Jewel the only thing more important than opulence is offspring. Purchased at the surrogacy auction by the Duchess of the Lake and greeted with a slap to the face, Violet (now known only as #197) quickly learns of the brutal truths that lie beneath the Jewel's glittering facade: the cruelty, backstabbing, and hidden violence that have become the royal way of life. Violet must accept the ugly realities of her existence… and try to stay alive. But then a forbidden romance erupts between Violet and a handsome gentleman hired as a companion to the Duchess's petulant niece. Though his presence makes life in the Jewel a bit brighter, the consequences of their illicit relationship will cost them both more than they bargained for.
9. Full Ride by Margaret Peterson Haddix – One of my favorite authors as a teenager (loved Among the Hidden & Just Ella), so when I saw she had some newer titles I obviously had to add those to my list!   |    Becca thought her life was over when her father was sent to prison for embezzlement. It didn't help when he used her as his excuse: "How else is a guy like me supposed to send his daughter to college?" She and her mother fled their town and their notoriety, started over, and vowed never to let anyone know about their past. Now a senior in high school, Becca has spent the last four years hiding in anonymity. But when it's time to apply to colleges and for financial aid, her mother gives her a rude awakening: If she applies, her past may be revealed to the world But Becca has already applied for a full-ride scholarship. And as she begins to probe deeper into the secrets of her past, she discovers that she and her mother might be in danger of more than simple discovery – by revealing the truth about their past, she might be putting their very lives in jeopardy.
10. The Orphan Queen by Jodi Meadows – This is quite possibly the most positively reviewed book of the last few months, based on what I've seen. It's all over booktube/ booklr & seriously sounds just perfect.  |   Wilhelmina has a hundred identities. She is a princess. When the Indigo Kingdom conquered her homeland, Wilhelmina and other orphaned children of nobility were taken to Skyvale, the Indigo Kingdom's capital. Ten years later, they are the Ospreys, experts at stealth and theft. With them, Wilhelmina means to take back her throne. She is a spy. Wil and her best friend, Melanie, infiltrate Skyvale Palace to study their foes. They assume the identities of nobles from a wraith-fallen kingdom, but enemies fill the palace, and Melanie's behavior grows suspicious. With Osprey missions becoming increasingly dangerous and their leader more unstable, Wil can't trust anyone. She is a threat. Wraith is the toxic by-product of magic, and for a century using magic has been forbidden. Still the wraith pours across the continent, reshaping the land and animals into fresh horrors. Soon it will reach the Indigo Kingdom. Wilhelmina's magic might be the key to stopping the wraith, but if the vigilante Black Knife discovers Wil's magic, she will vanish like all the others Jodi Meadows introduces a vivid new fantasy full of intrigue, romance, dangerous magic, and one girl's battle to reclaim her place in the world.
What have you been adding to your TBR pile? Check out today's linkup, hosted by The Broke & The Bookish for more!
Until Next Time ❤