"Waiting On" Wednesday is a weekly event, hosted by Breaking the Spine, that spotlights upcoming releases that we're eagerly anticipating.
This week, my pick is P.S. I Still Love You by Jenny Han, which will be released on May 26, 2015.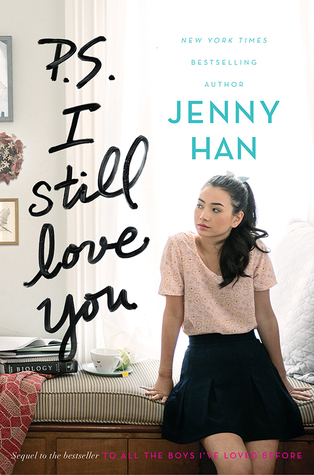 I'm in the middle of reading To All The Boys I've Loved Before right now, and it's been a really cute, fun read. It's quirky and a little painfully awkward. It's easy to relate to. I made the mistake of reading the synopsis for the sequel (SPOILERS), so I kind of know what's going to happen, but that doesn't really bother me because it's a little predictable, anyway.  I still really enjoy the characters and the general premise of the book, which is a nice departure from the excessive YA Dystopian/Fantasy I've been reading lately.
SINCE the synopsis for the sequel has spoilers, I refuse to post it here.; you can click the link above if you want to read it. But I will put the synopsis for the first book for anyone who may be interested.
---
To All the Boys I've Loved Before is the story of Lara Jean, who has never openly admitted her crushes, but instead wrote each boy a letter about how she felt, sealed it, and hid it in a box under her bed. But one day Lara Jean discovers that somehow her secret box of letters has been mailed, causing all her crushes from her past to confront her about the letters: her first kiss, the boy from summer camp, even her sister's ex-boyfriend, Josh. As she learns to deal with her past loves face to face, Lara Jean discovers that something good may come out of these letters after all.
---
Head over to today's link-up to see what everyone else is waiting on!
Until Next Time ❤